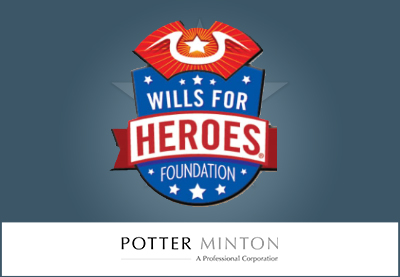 Potter Minton's estate planning and probate shareholder, Glenn Thames, and paralegal Linda Slayter took part in this year's WILLS FOR HEROES event in Longview, which was sponsored by the Northeast Texas Association of Paralegals. Thames and Slayter joined other local attorneys and paralegals from NTAP on May 6, 2023 to provide veterans and their spouses with essential legal documents free of charge.
Commenting on the day, Thames said, "It was a privilege to meet several veterans in need and provide them with the basic estate planning services everyone needs. We owe a debt of gratitude to those who have served our country and Linda and I are grateful to have had the opportunity to do something tangible to benefit our veterans."
A properly written will is important to ensure that your property passes as you intend and that your loved ones are able to settle your final affairs without unnecessary trouble and expense. However, it is equally important to have an advanced directive, a medical power of attorney and a durable power of attorney appointing someone to act for you in the event you are unable to speak for yourself, even for a short period of time. When an accident or illness happens, having your plan in place provides your loved ones with assurance that they are acting according to your wishes. While some may need more complex planning, everyone needs at least a basic estate plan.
Learn more about Wills for Heroes.
Learn more about Glenn Thames.